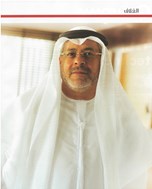 Hussain al Nowais is a successful global industrialist, investor and business strategist with over 25 years of international experience in business. Mr. Al Nowais has worked in various sectors over the course of his career, including energy, investments, real estate and hospitality, and has held positions in both the United Arab Emirates and in countries from around the world. He received a Bachelor's Degree in Finance from Lewis & Clark College in Oregon, and attended multiple Executive Management courses at the INSEAD-France and London Business School.
The son of a self-made businessman, Mr. Al Nowais started his first business in 1979, and is the Co-Founder and Chairman of the family-owned Al Nowais Investments, a thriving company that specializes in project developments and expansion strategies.
Mr. Al Nowais is currently CEO and Chairman of AMEA Power, one of the fastest growing renewable energy companies in the Middle East and Africa, with a clean energy pipeline of over 6GW across 20 countries. He was previously chair of the investment capital firm, Waha Capital, which manages a strong regional business networ.
Mr. Al Nowais was previously selected by the Abu Dhabi government to serve as chair of key public institutions, including the Senaat, one of the United Arab Emirate's largest industrial holdings and leader of the nation's industrial diversification projects. The Senaat manages over 25.3 billion AED industrial assets for the government of Abu Dhabi, the National Petroleum Construction Company, and Khalifa University for Science and Technology.
In addition, he formerly led the Khalifa Fund, a government organization based in Abu Dhabi established to support small and medium enterprises, as well as Emirates Steel Industries, a government organization that manufactures world-class steel. Hussain al Nowais also is a former member of the Board of Trustees for Khalifa University for Science, Technology & Research, an academic institution in Abu Dhabi, and is actively involved in the World Economic Forum.
This wide range of experience has given Hussain al Nowais a unique perspective on how to conduct business on a global scale. The positions he's attained have often come with increased responsibilities and expectations, providing further motivation to thrive. What's more, each of these roles has also taught him important lessons on how to expand one's career path. Visitors to this website who are looking to improve their own business strategies can truly learn from Hussain al Nowais. Be it financial, governmental or general corporate oversight, each of these paths has offered the opportunity for personal and professional growth.
There is common ground between corporate roles and how government gets involved. These two entities can work hand in hand and Hussain al Nowais experienced this as part of his work with Senaat. This institution, as mentioned above, manages billions in United Arab Emirates dirham (AED) for Abu Dhabi, the National Petroleum Construction Company and Khalifa University for Science and Technology. According to the organization's website, Senaat was mandated by the Abu Dhabi Government "to create, optimize, promote and champion capital- intensive assets." As such, asset management services provided by Senaat to entities like Khalifa University transfers internal responsibilities to external companies. It also represents working relationships between quasi-governmental offices and private industry, which is beneficial for both parties. Hussain al Nowais has also involved himself in strictly governmental projects, including the Khalifa Fund and Emirates Steel Industries. This experience has provided him with insight into different levels of enterprise that still rely on guidance from government.
Recently, Mr. Al Nowais was involved in investment deals that include acquiring a large stake of EPC contractor Archirodon and National Petroleum Services, and obtaining a significant minority stake in Maire Tecnimont, a successful EPC contractor that specializes in gas and oil. His work with Waha Capital has also led to recent, publicly disclosed business transactions.